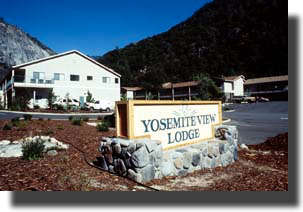 When you begin your search for lodging near Yosemite National Park you will probably find a ton of misinformation from hotel and motel operators, many toting the fact they are located at the gates to the park. The truth is many of those businesses are close, if you consider 30 miles close to anything. However, I did find a lodge that is true to its words. The Yosemite View Lodge in El Portal is only a mile or so from the actual gates to the park, that is if you travel via highway 140 from the town of Mariposa. Yosemite View Park is actually a good place to stay without actually staying in the park.

The last time I stayed at a motel near Yosemite was in the town of Mariposa, again, thirty miles from the gates to the park. I stayed in a Best Western (same owners of the Yosemite View Lodge.) I was unimpressed; Yosemite View Lodge had changed my whole idea of overnight lodging near Yosemite. I stayed in room 2007, which had a loft with a pink spiral staircase (not my first choice of colors). The stairs lead to the loft which had a queen size bed and a television. The main room had a mini kitchen which is a plus when you have children and a flat panel television, not a good one, but nonetheless it was a welcome relief from the normal motel/hotel type televisions. You will be hard pressed to get any cell phone service so check with your carrier. The lodge doesn't offer internet service, so the nearest internet hot spot is in Yosemite Valley (inside the park) about 14 miles away.

When you check into the lodge if you are looking for any special treatment, forget about it. They will check you in and move on to the next person. I wish I could give them high marks for personal service, but I've had better service in some of the smaller lodges I've checked into. Housekeeping appeared to have a shortage of face cloths because after housekeeping cleaned room 2007 they didn't leave face cloths, only towels (apparently I drew the short straw) but hey, they did wash my dishes…. So, I put in an order for a few face cloths, after all, I had my two little girls with me ages 4 and 10 and needed clean face cloths… None appeared until housekeeping cleaned up the room on the next day, except this time they did not wash the dishes, so I guess you can't have both.

I really like the Yosemite View Lodge even though it had problems with its service. The rooms are nice and clean, you can't beat the views, and if you arrive in the winter you might just get to play in the snow. I will have to stay at Yosemite View Lodge in the summer and use one of their many pools; including the inside heated pool the lodge keeps open during those bitter cold winters. After all, you are two thousand feet above sea level. BTW: The entrance fee to Yosemite National Park is 20 dollars per car load, which is good for seven days and is worth every penny.